Founder
Founder and director of the Wu Jao Martial Arts Academy New Zealand of Kung fu and Taiji, Laoshi Chris Eagle is celebrating his 25th anniversary in the martial arts practices via the opening of our new website.

Lao Shi Chris Eagle has enjoyed many of his years involving and teaching the public in Chinese Martial Arts in New Zealand, Australia, Singapore, and Malaysia.

Amoung Lao Shi Chris Eagle's personal achievements, he has accomplished recognition through his involvement in promoting and assisting other organizations during their infancy. Such as: the establishment of links between Singapore and Australia via the launching of Shaolin Int. Nam Wah Chuan Australia between the years 1987 and 1989; and the promotion of Martial Arts in Auckland NZ as the President for the Auckland Regional Association of the International Shaolin Wushu and Qi Gong Federation of New Zealand from 1996 to 1997. Sifu Chris Eagle was also responsible for the forming of the first United Chinese Martial Arts Association of New Zealand (U.C.M.A.A.) in 1992.

In 1996, he was elected as the NZ liason officer and coach responsible for selecting and training the New Zealand team toward the World Nanyang Wu Shu festival hosted by the International Martial Arts federation of Malaysia in the city of Kuching in August of that year.

As principal instructor of the Wu Jao Kung Fu Academy, Mr. Eagle states that his main focus of interest lies within his immediate disciples and associate members as it is due to their support and continued dedication to the Wu Jao School and Martial Arts practices that has enabled him to continue studying and researching Chinese Kung Fu and Taiji as a way of life.

With the introduction of our website we wish to invite anyone from abroad wishing to visit New Zealand and practice Chinese Martial Arts to contact us via our email address and we will most certainly accomodate you any way we can. We are able to offer personal training as well as Home-stay for students or independent travelers.

Sifu Chris Eagle has been researching and studying exercise physiology and traditional Chinese Martial Arts for twenty years both nationally and internationally. By special request a center has been opened allowing you to experience and share his knowledge and expertise first hand. Sifu Chris Eagle is the principal instructor at the Wu Jao Academy.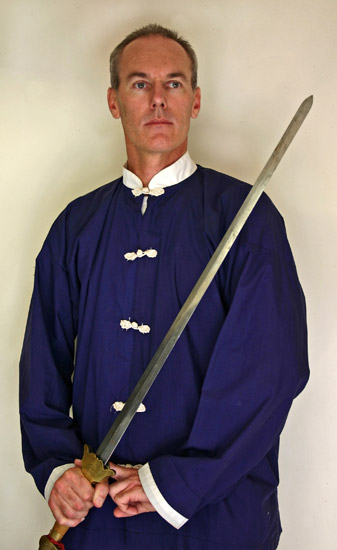 Open New Zealand Kung Fu Champion
South East Asian Open Kung Fu Champion
Founder of Wu Jao Martial Arts Centre
1st World Traditional Forms Stylist European Masters Champion
Presented life honoured membership to Shanghai Province Chen Taiji Boxing Association China
Nominated into the World Martial Arts Black Belt Hall of Fame by the Nanyan Wushu Federation of Malaysia
Master of the Year Award, World Hall of Fame, Malaysia